Enterprise marketing teams have a big problem that nobody wants to talk about; they have no idea if their cross-channel campaigns have performed well or completely failed. The dilemma comes from a fundamental disconnect between analytics and business intelligence (BI) tools and the thousands of marketing point solutions used to create and launch campaigns, resulting in teams making uninformed decisions and ultimately distrusting the data they spend hundreds of thousands (if not millions) of dollars to generate.  
The fault isn't with enterprise marketing and analytics tools, but stems from the fact that enterprise marketing teams are operating in silos that are often distributed across channels, geographies, and partner channels. The average enterprise marketing team uses dozens of different point solutions–compounded when you consider their agencies and other external providers–working in silos according to channel, region or product. These teams can generate thousands of placements a week across dozens of disparate marketing point solutions. Simply put, there are armies of marketers managing individual campaigns, and all of them are doing things a little differently than their counterparts. Magnify this by one of 5,000+ available marketing tools, hundreds or thousands of prospects a week, across a large enterprise, and you end up with mountains of marketing data that lack governance, uniformity, and transparency.
Digital and analytics tools have done amazing things for enterprise marketing teams, including allowing them to scale operations to meet the demands of modern-day business. Now that these platforms have matured, it is essential that enterprise marketing teams find a way to ensure they get the most out of their investment and that the data being generated drives value not chaos. The era of "Big Data" allowed enterprises to make some positive strides by enabling them to scrub data and put it into data lakes for analysis. However, this capability has only perpetuated the issue. Much like first responders continually reacting to each car that careens off a cliff — rather than having the forethought to put up warning signs and guardrails at the top — data analysts are stuck trying to clean up data after the fact, rather than helping marketers prevent the problem from occurring in the first place–at the point of campaign creation.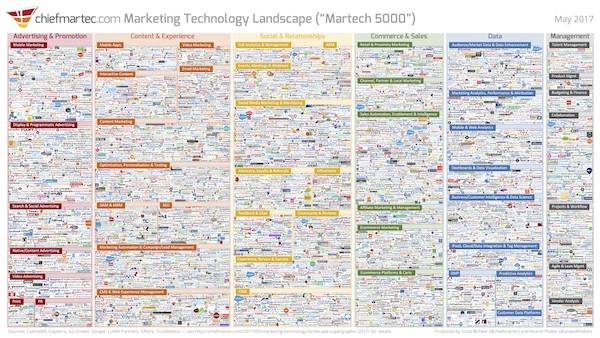 The Situation
With more than 5,000 campaign-tracking platforms on the market today and single enterprises using an average of 91 marketing cloud services, the integration of the results generated by these point solutions becomes overwhelmingly complex, and accuracy can quickly erode. How can marketers integrate these points solutions in a way that ensures data accuracy and facilitates a strong foundation for decision making? Let's take a look at one such example:
Several years ago, I consulted for a large wholesale retailer to help them locate and visualize their campaign results. I quickly realized they had nothing in place to track ROI. When I brought it up, the digital manager explained that they tried using platforms like Adobe Analytics, but were struggling to realize value out of their campaign reports because they didn't trust the data. Instead, they based their decisions on the successes of what was happening in their brick and mortar stores, rather than their digital data. Knowing that platforms like Adobe Analytics can be great for delivering accurate results, it quickly became clear that the real concern was in making sure the data was input correctly from the start. Like so many others, they simply didn't understand that the data you get out of analytics tools are only as good as the data you put in.
So what created this problem in the first place? Typical enterprise marketing and analytics tools pull data from across an entire organization made up of thousands of employees. They need data from the marketing team, the analytics team, the web department, e-commerce, social media teams, as well as every single agency and consultant they employ. The issue is that each of these teams uses different tools and data tracking codes to track their campaigns, and since there is no standardization across the different platforms, there's inconsistency in tracking codes across each tool used. At the end of a campaign, when analysts try to gather all the data across these departments and agencies, they find that the data simply isn't compatible because it wasn't structured or tracked in the same way.
This results in companies investing enormous amounts of money, often millions, in enterprise marketing and analytics tools that can't show them how campaigns actually performed. Not because the tools didn't work, but because there is no structure or verifiability in how that data was sourced, leaving decision makers to guess how to fill in the gaps in their analytics data.
From my time at Adobe and Omniture, I've experienced first hand just how frustrating it is to have to rely on questionable data when making important decisions about campaign spend and attribution. So when I was approached by the founders of Tracking First and heard about their solution, I was immediately intrigued.
How Tracking First Can Help
They explained that Tracking First is a marketing solution that puts the power to govern data across multiple channels into the hands of marketers. It does this by making sure data is tagged and input correctly from the source so that data analysts don't have to piece together a string of fragments at the end. Every piece of data is identically gathered and verified so that campaign analytics actually show a clear picture of marketing success or failure.
Like a pre-flight checklist, Tracking First makes sure that necessary steps are taken upfront to ensure that results will be clear and actionable. No longer must marketers attempt to make sense of multiple, siloed point solutions. Instead, Tracking First ensures that there is an enterprise data governance solution in place that allows marketers to create a unified view of campaign data, in real time, for easier analysis. It centralizes tracking code management to make sure data stays consistent throughout the campaign and across the enterprise.
Tracking First integrates with campaign solutions (i.e. DoubleClick) so marketers can generate the tracking code, validate the data and launch campaigns. On the back end, data from Tracking First can be set up to flow directly into analytics tools like Adobe Analytics Cloud and Google Analytics, saving analysts time trying to clean up and structure data.
When it comes down to it, less time spent cleaning up data means more time getting campaigns out the door and reviewing accurate data reports, and that means stakeholders can make more informed decisions.
Here's another example:
One of our clients, a Fortune 500 hotel brand, was struggling to streamline its data analytics processes. Much of that data was maintained manually in large Excel spreadsheets, and failure to get the right people to use the right tools resulted in a lot of extra time spent on data clean up.  After deciding to use Tracking First, the brand's turnaround time in tracking data shortened, and executive leaders were able to make decisions based on accurate, real-time campaign results.
This improvement was reflected in a recent study that showed Tracking First customers increased report accuracy by 66 percent while time spent managing and integrating tracking data decreased by 90 percent.
These numbers clearly show that enterprises don't need to settle for inaccurate, ineffective data, and Tracking First's growing customer base and traction in the industry proves there is growing demand for a solution. The growing company has more than 30 enterprise clients, including multiple Fortune 500 companies, all of whom rely on Tracking First for precise campaign analytics to make better-informed decisions.
Venture capitalists like Silverton Partners and Kickstart Seed Fund have also recognized how widespread this problem is, and they've decided to invest $4 million in funding so Tracking First can continue doing what it does best: solving enterprise data problems.
Throughout my 20-year career, I've struggled with the data disconnect that has stood in the way of being able to use campaign data to make smart business decisions. I'm looking forward to accelerating the strong growth the company has experienced and helping marketers and analysts gain deeper insights into enterprise-wide campaign performance.